The Swiss water process
The green coffee beans (the non toasted ones) are immerged into water which is super phreatic of components of instant coffee without caffeine, getting the Green Coffee Essence (GCE). The GCE wraps the green coffee beans. When the balance research begins, the caffeine inside the beans starts its transfer into the GCE. The GCE now contains some caffeine, but not for long. This is infact then distilled through coal filters which block the molecules, and then refreshing the GCE. This procedure is repeated non-stop for 10 hours, in the meantime the times, the temperature and the fluctuation are constantly tracked. This process allows to obtain green coffee beans without caffeine at 99.9%.
The toasting has been specifically studied for this product, considered to be a bit more sure to keep the flavours of our blendings.

Tins
The 250g tin package of our product grants the handiness and the conservation of the fragrances as it was just toasted.
The same blend of Arabic coffee, decaffeinated with water natural method allows to keep a harmonious fragrance, the fine and sweet taste.
Definitely one of the best decaffeinated.
---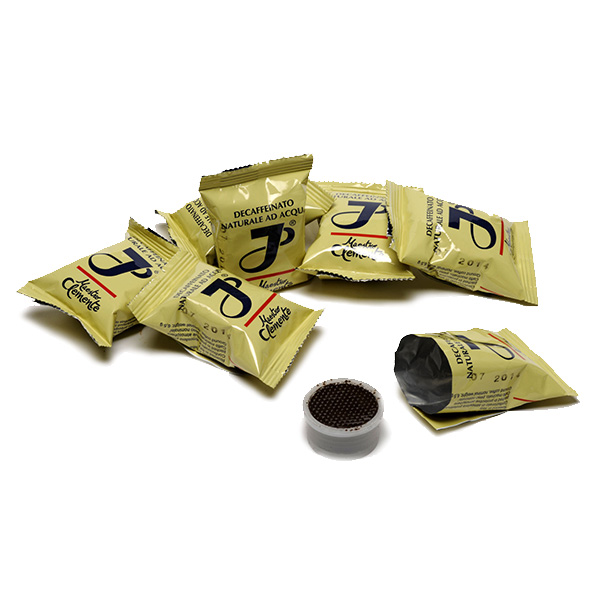 Capsules
Also at home or in the office, as at the café, a cup of water natural decaffeinated by Maestro Clemente packed in single-dose capsules in protective atmosphere. The capsules are compatible with Lavazza Point gr 6,5 (1 box contains n. 100 capsules) and compatibles Nespresso gr 5,6 (1 box contains n. 25 capsules).
---